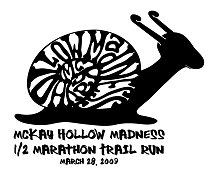 General Information
•
Start Time :
7:00 AM
•
Start/Finish Area :
Picnic Area (Monte Sano 15K Start) / Picnic Area Overlook Pavilion (McKay Hollow Trailhead)
•
Registration Fees :
$25.00 thru March 26, 2009 - $30.00 after March 26, 2009
NO RACE DAY REGISTRATION
ALL RACE ENTRIES NON-REFUNDABLE
•
Packet Pick-Up & Late Registration :
Friday, March 27, 2009 @ Fleet Feet Sports
Fleet Feet Sports
2722 Carl T. Jones Suite 2B
Huntsville, AL 35802
•
Saturday Morning Packet Pick-Up :
Start/Finish Area
•
Time Limits :
Although there is not a set time limit to finish, it would be appreciated by the race management and volunteers if you would finish by at least 12:00PM (5 hours).
•
Medical & Aid :
Medical assistance will be provided by H.E.M.S.I. There will be 4 total aid stations, 1 full service and 2 water only (consult course map). It is recommended that you carry at least one bottle of fluids with you the entire run. Also the two water drops will not have any cups so this is another reason to carry a bottle or container of some sort. In addition be advised that the only food provided during the race will be at Aid Station #2 which occurs at around 5 ľ miles so if you have any particular caloric needs you need to remember to pack it in as only water will be provided at Aid Stations #1, #3 and #4, which occur at (roughly) miles 2.9, 7.7 and 11.8 respectfully. Lastly if you arrive at Aid Station #2 and feel that it just isnít your day, this is the most logical and convenient place to drop out (by foot youíre only ~ 2 miles from the start).
•
Awards :
Top Three Male and Top Three Female Overall; Top Male and Top Female Master
•
Finisher Awards :
TBD
•
Results :
Results will be posted on the
Huntsville Track Club website
Race Director
Blake Thompson : (256) 990-2584, 929 Dewitt Dr. SE, Huntsville, AL 35802