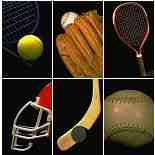 Welcome to HuntsvilleSports.com, your one-stop sports info e-page for the Huntsville and Madison County, Alabama sporting life!

Here you can find info on local middle school, high school, college, and professional sports including schedules, team information, players and coaches.

There is also info on individual/recreational events, clubs, fitness/training centers, sports medicine, sporting goods, personal trainers, recreational facilities - almost anything sports related in this area.